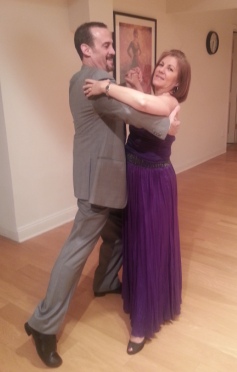 The name Foxtrot comes from a young dancer named Harry Fox who "trotted" across the stage in the Ziegfield Follies. This smooth and elegant dance is easy to learn and fabulous to dance to a wide variety of Big Band or Swing music. If you want to dance in a wide variety of social situations such as weddings, parties and other events, Foxtrot is ideal to have in your repertoire! 
Private Foxtrot Lessons 
Up to 60% less than large studios!  Private lessons can be scheduled any day or evening of the week.
For Information, Text or Call 773-398-0760 or Email Us.  Click to Order Online
Group Foxtrot Lessons
No contract required!
We specialize in small group classes that are relaxed and supportive and offer opportunities for students to receive individual attention.
To see our entire group lessons schedule in Chicago, Click Here
Questions?  Text or Call 773-398-0760 or Email Us.