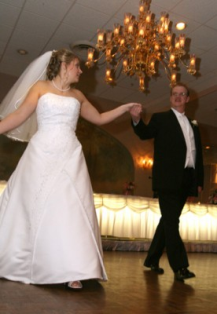 "Our guests were actually cheering during our first dance! After that, the dance floor was full all night! What a difference compared to weddings where no one dances and everyone leaves early. Thanks so much for everything!"
Melissa and Mike O'Hara
Wedding Dance Lessons
Candace Dance offers individual private lessons for $65.00 and also offers several discounted packages of  Wedding Dance Lessons in Chicago from which to choose  based on the amount of time before your wedding, level of previous experience, complexity of the first dance and number of dances to be learned. Se habla español.  Lessons are all one hour in length and the price includes 2 people. You'll be surprised how affordable it is to dazzle your guests!
We can help you choose a song,  teach you the basics of dancing and/or choreograph a dance to the song of your choice.
First Dance Lessons
We can choreograph Father/Daughter and Mother/ Son dances as well as First Dances for the bride and groom.
Beautiful Wedding Choreography
The cost for choreography lessons is typically less than the cost of your wedding cake!
For Information, Text or Call 773-398-0760 or Email Us.  Click to Order Online
Couples' Wedding Packages To pay by credit or debit card, please use the add to cart button to purchase the package.
Package of 4 Lessons
$240
Package of 6 Lessons
$330
If you would like to add dances for other members of the wedding party, we would be happy to choreograph those too!
More Client Raves
"Thank You so much for giving us great lessons and giving our guests one heck of a show! They loved our dance routine. Everyone was surprised that I could move the way I did, and how beautiful Verna was while she was dancing, and we can say that was all thanks to you, your great teaching skills, your patience, and your dedication. Even with all that you had to handle on your plate, we greatly appreciate you taking your time with us to make sure we understood what we were doing." 
Jimmy and Verna