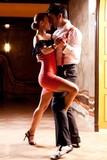 Salsa originated in the Caribbean, notably Cuba and Puerto Rico, and is an exciting, sensual and very popular club dance. One can learn to dance beautifully with a few simple moves or pursue the many turns, steps and "shines" as a lifelong passion. Candace Dance teaches the Cuban or Miami style "on one," meaning that the dance starts on the first beat, and the New York Torres' style Salsa/Mambo that starts on the second beat, or "on two."  Join us and learn salsa dance!
Private Salsa Lessons 
Up to 60% less than large studios!  Private lessons can be scheduled any day or evening of the week. Learn Salsa dance!
For Information, Text or Call 773-398-0760 or Email Us.  Click to Order Online
Group Salsa Dance Classes
No contract required! Learn to dance the salsa.
We specialize in small group classes that are relaxed and supportive and offer opportunities for students to receive individual attention.
MONDAY         8:30-9:30 p.m. Beginning/Intermediate Salsa – Click to Register
The basic foot patterns, turns and the crossbody lead, leading and following and partnering skills will be covered!
To see our entire group lessons schedule in Chicago, Click Here to learn to dance the salsa.
Questions?  Text or call 773 398-0760 or Email Us.
..