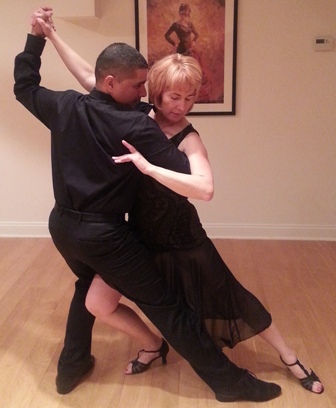 The Ballroom Tango has its roots among the Gauchos in the slums of Buenos Aires, Argentina. Vernon and Irene Castle and Rudolph Valentino brought Tango to the forefront of the American dance scene. It consists of a staccato style with very sharp head and body movements. It moves around the floor in a very cat-like way, incorporating quick and sudden direction changes and is a very emotional and highly stylized dance. 
Private Tango Lessons
Up to 60% less than large studios!  Private lessons can be scheduled any day or evening of the week.
For Information, Text or Call 773-398-0760 or Email Us.  Click to Order Online
Group Tango Lessons
No contract required!
We specialize in small group classes that are relaxed and supportive and offer opportunities for students to receive individual attention.
To see our entire group lessons schedule, Click Here
Questions?  Text or Call 773-398-0760 or Email Us.