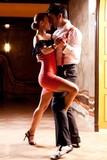 We specialize in small group classes that are relaxed and supportive and offer opportunities for students to receive individual attention.
Please call or email to put your name on the class list.
MONDAY
7:30-8:30 Intermediate Salsa
Partnering skills will be covered along with intermediate/advanced moves and "Shine" footwork. No partner necessary!
8:30-9:30 p.m. Beginning Salsa
The basic foot patterns, turns and the crossbody lead, leading and following and partnering skills will be covered!
TUESDAY
7:00-8:00 p.m. Beginning Ballroom
INTRODUCTION TO AMERICAN STYLE RHYTHM AND SMOOTH BALLROOM DANCES!
This class features a rotation of ballroom dances including Foxtrot, Waltz, Tango, Rumba, Cha Cha, Swing, etc.
If you have never done ballroom dancing but would like to experiment with a variety of dances, this class is for you!
No partner necessary!
8:00-9:00 p.m. Beginning Bachata
Dominican and Club Style
Learn the basic footwork, body movement and some sensual turns!
Beginners welcome! No partner necessary!
THURSDAY
7:30-8:30 p.m. Intermediate Cumbia
Mexican-style Cumbia. Learn classic Cumbia and Sonidero turns and footwork! No partner necessary!
8:30-9:30 p.m. Beginning  Cumbia
This class is for people who do not have experience dancing Cumbia.
Learn the basic footwork and turns!
Mexican style Cumbia! No partner necessary!
SUNDAY
4:00-5:00 p.m. Intermediate Casino Rueda
You've seen it in the movie "Dance with Me"
Cuban Style Salsa done in a circle and called like a square dance.
Dancers move from partner to partner.
Salseros who would like to try Rueda are welcome!
No partner necessary.
Discount Class Cards Are Available!
Buy 4 get one free.  5 classes for $56.00
Drop-in rate is $14.00 per person per class.
No contracts!
Private Lessons can be scheduled any day or evening of the week!
Text or call 773 398-0760 or email candy@candacedance.com
Candace Dance Studio
4901 N. Elston Ave. , Chicago, Ill. 60630